This article is an introduction to SFCC, right from "why" it exists, "what" it is & "how" it works. It's aimed at anyone aspiring to be an SFCC developer. This is the first in a series of articles that explore SFCC from a technical perspective.
WHY SFCC Exists:
In the good ol' days, when a business wanted to sell its products online, the obvious way to go, was to set up a website & showcase all products. Maintaining this website entailed a lot of challenges:
Refreshing the product catalog periodically, as the business adds or removes products
Maintaining product pricing in a way that allows for easy updates in response to market forces (This gets especially tricky if the website deals in multiple currencies.)
Keeping the product inventory up-to-date, especially for fast moving stock
Offering discounts on products or to specific customers
Running site-wide sales, seasonal promotions or other marketing campaigns
Integration with payment gateways
Managing customer data & ongoing compliance with regional user data protection policies
Order management & order processing, including payment modes, EMIs, order export to warehouses, etc.
Integration with social networks for marketing campaigns
Support for user ratings & reviews
Providing customer service
Integration with brick-and-mortar stores – buy online & pick-up from store.
Clearly, these activities are far from trivial & require an army of developers, testers, analysts, marketers, etc., to keep the site up & running. As the e-commerce industry matured, numerous toolkits & frameworks emerged to facilitate these tasks. SFCC is one of them. But SFCC took this to the next step by not only providing a comprehensive e-commerce solution, but even taking the entire infra to the cloud, hence the name "commerce cloud".
WHAT is SFCC:
SFCC is an e-commerce solution. What that means is that SFCC provides tools, framework & infra that you can leverage, to build an e-commerce website from the ground up. Not just that, since SFCC is a cloud hosted solution, it'll even host your website for you, so you don't have to pay for & maintain expensive hardware onsite.
A website hosted on SFCC is composed of two parts: data & code. The data is primarily comprised of the products, the categories that the products are grouped into, the catalogs that the categories are assigned to, the price books that maintain product pricing, the product inventory records & the marketing campaigns & product promotions. The code is the JavaScript code that presents all data on the site.
HOW SFCC Works:
Once you have an SFCC account, you get access to several resources on the SFCC cloud. One of these resources is a collection of "instances". Think of an instance as a cloud hosted VM that hosts your site.
Instances are of four types:
The production instance hosts your production site. This is the live site that's accessed by your customers from all over the world.
The staging instance is where merchandisers create & manage site data: products, pricing, inventory, campaigns, etc.
The development instance is where QAs test a new feature or a defect fix, before it's deployed on production.
Sandboxes are where developers write code & test it, before being sent for QA. Each developer gets a sandbox.
Each instance gets a copy of the website. This website in SFCC terminology is called a "storefront". There is only one instance of types Production, Staging & Development each. However, there can be many instances of the Sandbox type.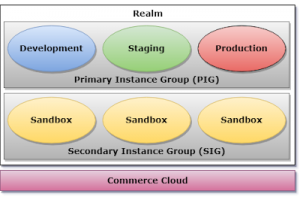 Conclusion:
All in all, SFCC is a pretty neat solution for your e-commerce needs. Their shared revenue model makes it especially attractive to many small businesses. In many ways, it has earned its well-deserved title of being the world's #1 enterprise cloud commerce platform.
"Harish KM is a consultant at Systems Plus. The content of this blog is personal & for information purposes only, and is subject to change. Reader discretion is advised"